IEEE R10 Subsection activities in the Year 2020
The first general meeting among the members was held on 14th February, 2020. The main agenda of the meeting was to discuss and nominate the office bearers of 2021 for the subsection. Four office bearers were nominated and endorsed by the members as given below:
Chair – Mr. Tandin Wangchuk, Lecturer
Vice Chair – Mr Kamal Kumar Chapagai, Lecturer
Secretary – Ms. Kezang Dema, Associate Lecturer
Treasurer- Mr. Manoj Chhetri, Associate Lecturer
The next general meeting was held on 29th June 2020 to discuss on way forward of ICSciEnTec2020 conference which was at halt due to pandemic COVID-19. The members decided to organize on February 2021 if the pandemic situation gets better. Other agenda includes the discussion on various activities that the members can coordinate during this pandemic situation.
The members could not conduct more general meetings due to COVID-19 and constant lockdown, nevertheless many were involved in various voluntary activities which will be covered in later section. Another general meeting was held on 7th August, 2020. The main agendas for the meeting was to discuss on our subsections' interest to host R10 flagship conferences and also to share on 2020 R10 SYWL virtual congress.
Developing online Database Application
29th March, 2020 – 6th April, 2020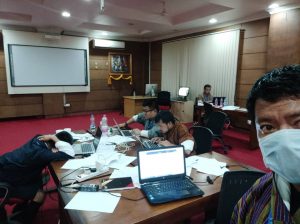 The subsection members helped an organization in developing online database to enter the details of evacuees who were affected due to COVID-19 situation.
3 subsection members were rigorously involved in this work.
Survey data collection from evacuees during COVID-19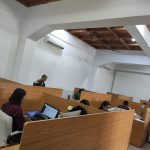 15 members helped the local government in conducting the survey to collect the  details of evacuees who were affected by pandemic COVID-19 situation.
Load and Unload of food essentials during COVID-19
24th March, 2020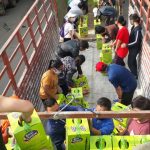 10 members volunteered to help Food Corporation of Bhutan who supplies the food essentials to the people to load and unload their stock in different locations amidst COVID-19.
Development of Electric Fence Energizer prototype
1st April, 2020 – 1st May, 2020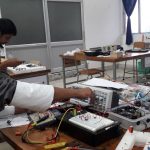 There was a requirement to design and construct an electric fence energizer Motion detection and early warning system for border surveillance amidst COVID-19.
A total of 3 members from our subsection worked on it and completed their work within a month.
Satellite Development Workshop for faculty members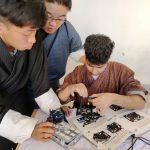 A workshop on satellite development using HEPTA Sat kit was given to 4 faculties of the college
Satellite Development Workshop for students
3rd December, 2019 – 6th December, 2019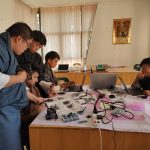 A workshop on satellite development using HEPTA Sat kit was given to 4 students of the college
Students seminar
9th May, 2020 to 10th May, 2020
A total of 34 third year students from BE in Information Technology made oral presentation on various fields related to Information Technology
Annal Student Research meet
24th August, 2020 to 26th August, 2020
The 3rd Annual Student Research meet was organized by the subsection in collaboration with the office of Dean of Research for 3 days using BigBlueButton platform.
12 best project groups from the final years presented their research findings to all students and staff of the college.
Link:
EYantra ideas competition 2019 – 2020
The subsection's member coordinated the students and staff for the competition.
There were 6 groups consisting of 28 members who took part in the competition initially and all the groups couldn't make up to the final. It took 3 months.
Eyantra Robotics Competition 2019 – 2020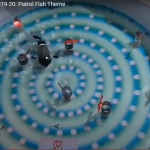 Total of 24 students formed 6 groups to participated in the aforementioned competition.
One group made to the final which was conducted online
Webinar/Webcast
10th October, 2020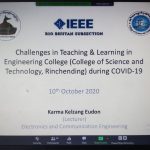 A free webinar was held on the theme "Challenges in teaching and learning in Engineering College (CST) during COVID-19" using zoom application.
There were 26 participants with a mixture of students and faculties.