8th ‐ 9th December, 2017 (Friday and Saturday)
Venue: CST, Rinchending, Phuentsholing
About
International Science Community Association (previously known as International Science Congress Association, formed on 3rd March 2011) is licensed under section 8 of Companies Act, 2013, Ministry of Corporate Affairs, Government of India.
This is the 7th International Science Congress (ISC) organized by International Science Community, the last 6th ISC was organized from 8th - 9th December 2016, in collaboration with Hutatma Rajguru Mahavidyalaya, Pune, Maharashtra, India with focal theme "Digitization in Research for Cultural, Commercial & Scientific Development".
This is the 2nd time ISCA is organizing the conference in International platform. The first time was organized in Nepal, the 5th ISC at Tribhuvan University, Kathmandu from 8th-9th December 2015.
Conference focal theme:
Widespread Research: Strengthening Nations and Spreading Happiness
Under the focal theme there are exactly 20 sections covering the whole field
The sections are:- Agriculture, Forestry and Horticulture; Animal, Veterinary and Fishery; Biological Sciences; Chemical Sciences; Computer and Information Technology; Earth and Geology; Engineering, Energy, Architect and Planning; Environmental Sciences; Forensic, Medical, Dental and Nursing; Family, Community and Consumer; Material Science; Mathematics and Statistics; Physical Sciences; Physical Education, sports and yoga; Educational Science; Commerce Law and Management; Library Sciences; Language, Literature and Culture; Social and Humanity;
ISCA is constituted to spread and emphasize the cause of science and other related subjects at international level through:-

Providing an expert international publishing service to the scientific, academic and student's community.
Publishing Journals and proceedings at international levels.
Organizing international conferences and workshops to bring worldwide intellectual people on a common platform.
Exploring scientific and academic efforts from all over the globe and appreciate them through international awards.
Floating worldwide information and news related to academics and research.

College as the organizer, the main objective of the conference is to provide an opportunity for the academicians from the Royal University of Bhutan, scholars and researchers from other relevant agencies to disseminate their research finding to the international audience. The conference will be able to establish network and linkages with various development experts from other international universities.
Promote research capability in various fields thereby enhancing the research goals of Royal University of Bhutan, in particular, the College of Science and Technology.
This conference will provide Bhutanese researchers a platform to present and disseminate their research work which otherwise will be too expensive for the College to fund.
Create a meeting point for champions of various field scientists and scholars in Bhutan and from other countries. The College will be the first to benefit from the proposed conference. In particular, enhance knowledge and develop skills of the graduates.
Conference Participation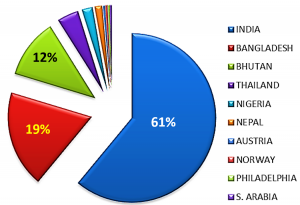 The 7th ISC received a total of around 292 abstracts/papers from India, Bangladesh, Thailand, Nepal, Norway, Nigeria, Saudi Arabia, Philadelphia and Australia.
Majority of the papers were received from India and around 54 abstract/paper received from Bangladesh and 12 abstract/paper from Thailand.
A total of around 36 abstract/papers where received from Bhutan. Majority of abstract/paper were received from CST with 29 submitted papers. Remaing abstract/papers were from various organization including Gaeddug College of Business Studies, Sherubtse College, Ministry of Education and others.
From CST, all most all the abstract/papers were received from third and final year students.
 Most contributed abstract/papers from CST were in the section of Engineering, Energy, Architect and Planning with total of around 21 abstract/papers.