Previous Conferences
The second Renewal energy and sustainable development conference was held at the Office of the Vice Chancellor, Royal University of Bhutan, Thimphu.
The conference was organized to bring together the Academicians, researchers, engineers and students from different parts of the world to share their research ideas and findings, and help in promoting research culture at the Royal University of Bhutan.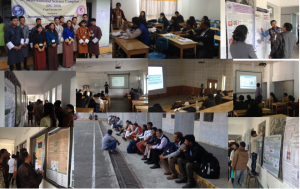 International Science Community Association (previously known as International Science Congress Association, formed on 3rd March 2011) is licensed under section 8 of Companies Act, 2013, Ministry of Corporate Affairs, Government of India.
This is the 7th International Science Congress (ISC) organized by International Science Community, the last 6th ISC was organized from 8th – 9th December 2016, in collaboration with Hutatma Rajguru Mahavidyalaya, Pune, Maharashtra, India with focal theme "Digitization in Research for Cultural, Commercial & Scientific Development".
This is the 2nd time ISCA is organizing the conference in International platform. The first time was organized in Nepal, the 5th ISC at Tribhuvan University, Kathmandu from 8th-9th December 2015.