3-5 April 2017
About
The second Renewal energy and sustainable development conference was held at the Office of the Vice Chancellor, Royal University of Bhutan, Thimphu.
The conference was organized to bring together the Academicians, researchers, engineers and students from different parts of the world to share their research ideas and findings, and help in promoting research culture at the Royal University of Bhutan.
The conference was dedicated to the birth of His Royal Highness The Druk Gyalsey Jigme Namgyel Wangchuck.
Conference Participations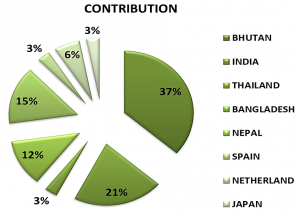 The second International Conference on Sustainable and Renewable Energy Development and Design saw 346 participants including presenters, student's participants and participants from various organizations. Eight countries from around the globe contributed including Bhutan. The countries include India, Thailand, Bangladesh, Nepal, Spain, Netherlands and Japan. The major contributions were from India, Bangladesh and Nepal. With a maximum of 12 papers received from universities and various organizations in Bhutan. In total, the conference received 33 papers.
The participants included researchers, faculties, students, civil servants and entrepreneurs. Students from two colleges, College of Science and Technology and the Royal Thimphu College were major participants totaling to 221. The remaining participants were from government organization, autonomous organizations, private organizations and international organizations.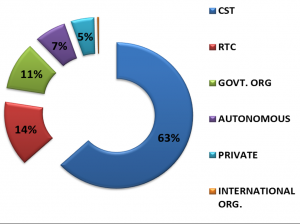 The conference had 30 participants from the following government organizations:
- Ministry of Work and Human Settlement (MOWHS)
- Department of Renewable Energy (DRE), Ministry of Economic Affairs
- Ministry of Home and Cultural Affairs (MOHCA)
- Ugyen wangchuck Institute for Conservation and Environment
In total, the conference received 19 participants from various autonomous organizations. Major participants were from Bhutan Power Corporation (BPC) and National Housing Development Corporation Limited. From Private and International organizations, the conference received 15 participants.